Day Eight of the Organised Housewife's 20 Days to Organise & Clean Your Home Challenge and it was a hot one again here today. Not 40 degrees Celsius, more around 30 but humid and icky as well. Not really the type of weather I want to be cleaning in but we had the whole day at home and I knew I needed to take advantage of it.
I had planned to walk around to the coffee shop and have a special coffee date with Lily but my parents called, said they'd pick up coffee and stop in at our house for a little while. That was fine by me as it was simply too hot to walk around there and back and then clean in the afternoon.
So, once my parents had left to go have lunch with my in-laws at Mr Monkey's work, Lily and I had lunch and then I convinced her to go upstairs and "help" me clean her room.
Clean
The options for the cleaning task today were "Kids toy room, craft room, spare room or extra living room (one only)". We don't really have any of those – Lily's toys are in her bedroom, the dining room and the lounge room, the spare bed is in Lily's bedroom and we don't have an extra living room. So, going off the room that had the most of the above and seeing as I was going to declutter Lily's toys anyway I decided to work on her room.
As you can see in the photo above (click through if you're reading via RSS) it was fairly messy but it was just a matter of putting things away and making the beds mostly. The floor was actually surprisingly clean.
It didn't take long to put the clothes away (that were on the spare bed), change Lily's sheets, and organise all of her books but I was greatly hampered by the heat and the sweat dripping off me. Being upstairs the room gets incredibly warm and there is no air flow. There is one window but currently doesn't have a fly screen (it's getting installed tomorrow) but I opened it anyway as I was dying. It still didn't seem to help so I moved the fan in. This made the cleaning a little harder as it took up a lot of the floor space but I did what I could.
I also washed the window, dusted the furniture using baby wipes and got rid of all of the rubbish. I wasn't able to vacuum but I'm hoping Mr Monkey will do it on Thursday.
Lily didn't end up being much help – once I sorted through her books she got excited about all of the books she hadn't read for awhile so sat up on her bed reading a few.
Declutter
Today's decluttering task was to declutter the kids toys. A few weeks ago we went through Lily's toys downstairs and moved some upstairs, which were just left in a box in her room. I didn't really need to declutter in the sense of throwing toys out as we did this when we organised the ones downstairs, it was more just a case of re-organising the toys in the boxes so that they were neater and easier for Lily to play with.
I started by putting all of her animal toys in to one box, balls in another. The box that her jewelry had been in had begun to fall apart so I moved it in to the little cane basket (I believe someone is giving her a proper jewelry box for her birthday). I then reorganised all of her bigger toys in the two bigger boxes.
I moved some of the boxes of toys underneath her bed – she can still access them easily there but it keeps the minimal floor space a bit clearer. There's the box of various balls, her Duplo, a toy dog and a box of some sort of jenga-like game. In front is her CD player/ radio that she got for Christmas – there is nowhere to put it up off the floor and she likes to read along to books with CDs before sleeping. It was also great today as I was able to listen to the radio while cleaning – I need to get another for downstairs, especially in the kitchen.
Organise
One of the things that I had slacked off as well as the cleaning after we moved was using Lily's chore chart. I don't even really have a reason for it, we just simply stopped doing it one week.
So, I wanted to get back in to using her chart – I think it would be good for Lily to have a little more structure, she's been a bit harder to get to do things lately and it'll help on Fridays with school.
So I printed off another copy of the chart this morning and Lily remembered it straight away. We went through and put stars on the tasks she completed yesterday (everything but brushing her teeth at night and making her bed) and then got to work on completing today's tasks. I love that I can ask her to do a task and when she doesn't want to I can simply remind her that she can put a star on her chart after she does it. Here's hoping it lasts!
New Habit
The new habit to start is to tidy a shelf in the "toy room" every 2-3 nights. I'm hoping to start getting Lily to tidy the floor of her room before she goes to sleep each night. It should only take a few minutes and I'm hoping it will start off a good routine for Lily.
5 minutes
Since cleaning the bedroom the other day it has stayed fairly clean. I spent the 5 minutes clearing a few things off the bedside tables and picking up Mr Monkey's dirty washing and putting it in the basket that is mere meters away! Grr. Anyway. There is still a pile of clean clothes at the end of the bed that need to be put away but by that stage Lily had had enough and was *demanding* that I came downstairs. I'll try to get them put away in the morning.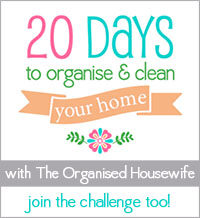 My catch up list
♥ Clean kitchen window
♥ Organise under the kitchen sink
♥ Clean laundry window
♥ Polish or dust 2 pieces of furniture
♥ Clean windows of main area of house
♥ Vacuum and mop (vacuum upstairs, dining room, mop kitchen & bathroom)
♥ Organise shower caddy
♥ Wipe over washing lines
♥ Clean bathroom window

Related posts:
Category 20 Days to Organise & Clean Your Home | Tags:
---