So yes, Day Four of the Organised Housewife's 20 Days to Organise & Clean Your Home Challenge is a day late. I was just simply too exhausted yesterday to face even cleaning and spent most of the day sleeping. I ended up taking Lily to bed with me early in the night and I was asleep by about 10.30pm, while she was still awake when Mr Monkey got home from work. I ended up sleeping through until 9am but it was a broken sleep and I'm not sure it was all that better than other nights.
Today I've woken up with what feels like a swollen throat and just feeling generally ill. I'm still exhausted – even after a strong coffee and a 2 hour nap, but I was determined I was going to do something today. So, I decided to at least tidy the lounge room as it was ridiculously messy.
Clean
As you can see from the photo I had to start by simply tidying and putting everything away. And yes, I did this while Lily was asleep on the floor! I simply started moving things in to piles – Lily's toys to go away, things to go upstairs, things to go in the kitchen, rubbish. Then worked on putting those piles in the correct places. I left Lily's toys for her to put away when she woke up but she still hasn't put them away.
I put the decorative cushions out on to the back yard table (there wasn't room on the washing line) to air for awhile and then used a baby wipe to dust the furniture. I wiped over the TV remotes, dusted the light and then used a baby wipe to spot clean the couch.
Declutter
We don't really have a magazine stash – the only magazines we tend to get are cooking magazines and they go in with the cookbooks on the bookshelf. I would like to go through the magazines and take out all of the recipes I want to keep but it would be a pretty big job.
The one problem I do have in the lounge room is Mr Monkey's pile of "stuff". This stays on the side of the couch as he uses it when he's working on the laptop in the evening – there's cookbooks and business books and I don't really know what else. I obviously can't sort through this so I just tidied it in to better piles.
Organise
Hmm.. "me time". I'm not really sure if I need more or less. One definite period of "me time" is when I go to the Buddhist Centre every second Wednesday night. An hour meditation and an hour and a half discussion on Buddhism with other "young" people.
Another time is after Lily goes to sleep at night – sometimes in her bed, sometimes on her couch on the floor of the lounge room. But this doesn't really feel like "me time" as I'm normally just wasting time on the computer.
I also get some time alone when I read at night but that ends up cutting in to my sleeping time. Which is very important "me time" – especially lately.
New Habit
Today's habit is to learn to say no. Quite timely given yesterday. I don't usually have a problem with overcommitting to things – I normally need to learn to say no to myself. No, I'd be better off doing the housework instead of just lazing on the couch. No, I'd be better off putting the book down now and getting some sleep. But also, no, I need some rest because I'm not well; cleaning can wait.
5 minutes
I didn't do this task today – "Clean windows of main areas of your home". It goes on the list to catch up on.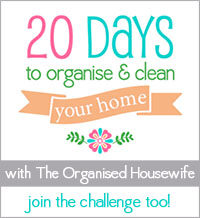 My catch up list
♥ Clean kitchen window
♥ Organise under the kitchen sink
♥ Clean laundry window
♥ Polish or dust 2 pieces of furniture
♥ Clean windows of main area of house

Related posts: