Almost didn't get anything done for Day Seven of The Organised Housewife's 20 Days to Organise & Clean Your Home Challenge today. We had Lily's swimming lesson this morning – after an initial period of crying and refusing to get in the beginning we finally got her in the water and she loved it. Hopefully that bodes well for next week. My parents met us at the pool and then we headed to the local Spotlight to get some fabric to make a bunting for Lily's birthday party. They dropped us home and then we went to do the grocery shopping. When we were finished Mr Monkey went off to the doctor to get his cough checked out and Lily and I fell asleep on the couch. Mr Monkey came home, fell asleep too and 3 hours later we all woke up! Not the most conducive environment to get some cleaning done.
But, I'm determined to do this so while Mr Monkey made the marinade for the prawns for dinner I started to clean out the fridge.
Clean
As you can see in the photo above (you'll have to click through if you're reading from RSS) the fridge was surprisingly clean to begin with. We had just bought the groceries so it was fairly full and definitely could've been organised a bit better. So, I knew it wasn't going to be an overly long task.
I started from the top shelf, removed everything (decluttering out of date items as I went), washed the trays in a sink full of soapy water and used my multi-purpose spray to clean the walls of the fridge. It really didn't take long and we only threw out a few things – mostly sauces and herbs from the door that we hadn't used in a while so were out of date and a few bits of pieces out of the fridge. I had taken out the vegetables we were having for dinner which is why the crisper is a bit less full.
Declutter
Ok, so I admit I didn't do this. Decluttering my cookbooks and organising my recipes is one job that seriously overwhelms me and I keep putting off. We have a LOT of cookbooks (one of the joys of being married to a chef) plus all of the cooking magazines that I buy each month. There's also all of the recipes that I have on the computer that I've found through general google searches or nights trawling Pinterest. I would love to compile them all together – photocopy the ones from the books or magazines and print the ones from the computer (or type them all up and have them on the computer to print off when needed) but the thought of such a big job just scares me.
Perhaps my next project after I finish this will be to start compiling my recipes. Should give me something to do when I'm bored with a toddler and newborn!!
Organise & New Habit
If you are a regular on TFDM or have had a look around (which I hope you do!), you'll know I'm already a fan of meal planning. I shared how I meal plan here. You can also see my meal plan for this week here.
Meal planning has made a huge difference to how organised we are, how well we eat, how much food we waste and how much money we save. I struggle to think what I would be cooking each night if I wasn't meal planning – before, I would basically find something in the freezer, cook it in the only manner I knew how and add something starchy to go with it. We'd probably be eating a lot of pasta and mashed potatoes plus I a lot more 2 minute noodles because I wouldn't be bothered some nights. Now, we are trying so many new things, Lily is adventurous with her eating, we can save money on the weeks when it's tight and splurge a little more on other weeks, I know we're getting a range of healthy(ish) meals each week and my cooking skills have improved immensely.
I really can't extoll the virtues of meal planning enough. I'm hoping I can keep it up once this baby's born – I'll probably try and plan a month or so in advance before in the hope of making things easier.
5 minutes
Today's 5 minute task was to wipe over kitchen appliances. I did this while decluttering and cleaning the kitchen the other day so they are still quite clean. Mr Monkey quickly wiped over everything while I was cleaning the fridge. I also try to wipe them each night when I wipe down the benches.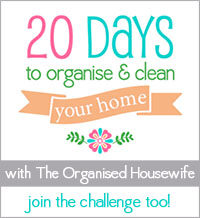 My catch up list
♥ Clean kitchen window
♥ Organise under the kitchen sink
♥ Clean laundry window
♥ Polish or dust 2 pieces of furniture
♥ Clean windows of main area of house
♥ Vacuum and mop (vacuum upstairs, dining room, mop kitchen & bathroom)
♥ Organise shower caddy
♥ Wipe over washing lines
♥ Clean bathroom window

Related posts: