Pre-challenge Task #5 of the Organised Housewife's 20 Days to Organise & Clean Your Home Challenge is to set your goals for the 20 days. This helps to keep you on track with what you want to achieve and what you want to prioritise.
Kat helpfully supplied the following statements to help set the goals – the words in italics are my answers.
1. I want to feel in control while I'm at home.
2. I want to spend more time playing with Lily.
3. I want an area of the home where I can feel accomplished and proud.
4. I want to organise Lily's toys.
5. I always lose my motivation.
6. Something that I don't need anymore, but am having trouble parting with is  my laziness.
As you can see, besides organising Lily's toys my goals are more about how I want to feel rather than actual physical things I want to achieve. I've been feeling so lost, unmotivated and lazy lately and I want to get past that. I especially want to feel more organised and in control before the baby is born.
The other part of today's pre-challenge task is to print the labels to go on baskets or bags for "keep, donate, sell, rubbish". To be honest I haven't done that yet. But I will see how I go – I normally just keep piles for those sort of things and then get rid of them as I go. But if I find they will be useful I will print them as needed.
So, that completes the pre-challenge tasks. Tomorrow is Day One! It's forecasted to 40 degrees Celsius here tomorrow so I'm glad the tasks don't involve too much intense cleaning – I think I can handle wiping and organising without too much sweat. Plus, we are going to close all of the curtains tonight and make sure the house stays dark and cool during the day so that will help.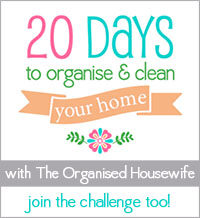 P.S Today was Lily's second day at "school" (she only goes once a week). After she settled in really well last week I was confident she was going to be fine today. Mr Monkey drove to the school with us and took her up to drop her off. She was shy, as she was last week, but as he went to put her down and say goodbye she burst in to tears! The teacher tried to distract her and she calmed down a little so Mr Monkey left and I took him to the train station. I had an issue with my phone all day which left me without a useable phone but my Mum was able to call the school a few hours later and they said she was fine and had settled down. I went to collect her at 4.30 and as soon as she saw me she burst in to tears again! I couldn't get a reason out of her until we got home and I managed to work out that (I think) she was upset because Daddy dropped her off but didn't come to pick her up.
She had a really bad sleep last night (which meant I did too), she has a bit of a cold and we had a big day yesterday at Sydney Wildlife Zoo to see the new Tassie Devil exhibit so I think she was mostly just tired. I also think we will stick to me dropping her off and picking her up in the future.
She starts back at swimming lessons on Monday so hopefully we'll be able to settle in to a good routine of swimming on Mondays and school on Fridays.

Related posts: